WeatherTrigger Features - How does it Work?
WeatherTrigger is a weather targeting API which integrates into your advertising/ marketing platform, eCommerce website or business application.
It enables you to set up rule-based triggers relating to past, current, or forecast weather conditions for any global location.
When the desired weather condition occurs, WeatherTrigger activates your assigned action for that location - be it to display an ad, send an email, or show customized content to a specific website visitor.  
A trigger is made up of a weather element or combination of elements, a time parameter, and one or more locations (using lat/ longs coordinates or geocodes). E.G.
"Is it going to be sunny in London tomorrow" or "is it currently snowing and below 0° C in New York?
Below are just a few examples of the types of triggers you can set up. WeatherTrigger returns a yes or no response to any of these queries- which can then be used to trigger any action.
---
Weather Elements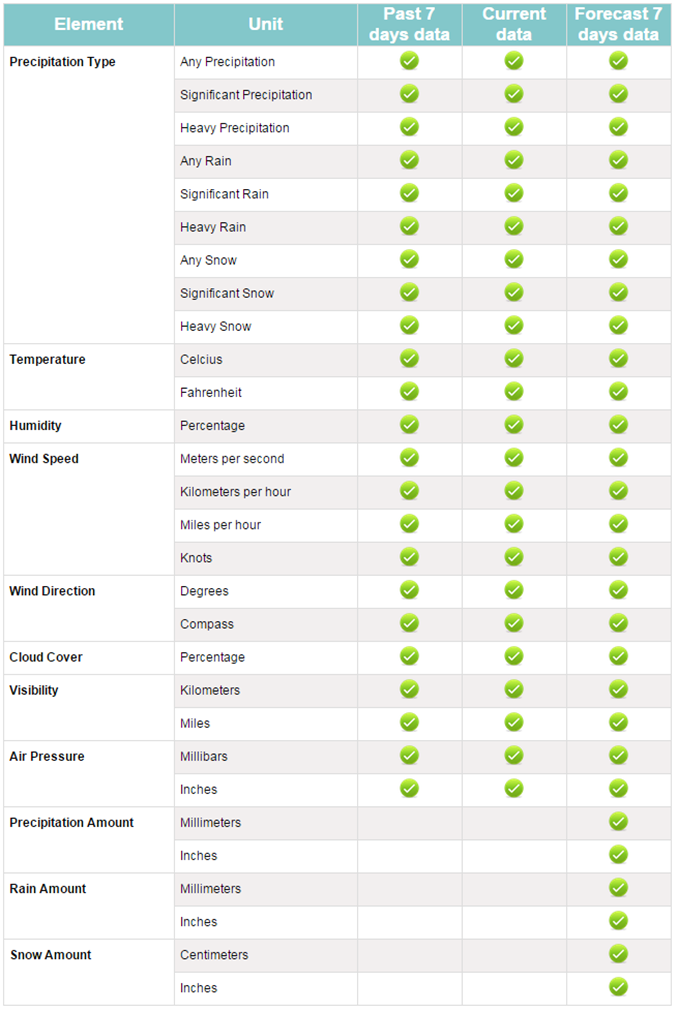 ---
Using Past data
For certain products and services, demand will spike after a spell of a particular type of weather. Past data triggers are useful for targeting 'weather-primed' consumers.
Product: 4x4 SUV

Trigger: Has it snowed within the past 24 hours?

Action: Display banner ad for 4x4 SUV's
Product: Waterproof Jackets

Trigger: Has it rained heavily in the past 6 hours?

Action: Send email campaign promoting a sale on waterproof jackets
Product: Travel Offers

Trigger: Has it been below 40 Fahrenheit AND over 70% cloud cover in the last 2 days?

Action: Display Facebook ads for sun and sea holiday destination

---
Using Current data
For certain products and services, the weather consumers are immediately experiencing will drive demand.
Product: Air Conditioner

Trigger: Is it currently over 90 degrees Fahrenheit?

Action: Show banner ads for air conditioners.
Product: Sunscreen

Trigger: Is it currently sunny and over 20 degrees Celsius?

Action: Send push notifications promoting sunscreen
Product: Cold and Flu remedy

Trigger: Is it currently under 5C?

Action: Activate DOOH creative for flu remedy
---
Using Forecast data
Forecast data is ideal for priming consumers with your brand before they are aware of their need for your product or service. It is also useful for advising consumers on what conditions to expect and what pre-emptive actions to take (e.g. stock up on a product)
Product: Garden products

Trigger: Is it going to be over 22 degrees Celsius this coming weekend?

Action: Display CPM ads for gardening products.
Product: Insurance

Trigger: Is the wind speed going to rise above 60 knots?

Action: Send out SMS notifications warning of approaching hurricane.
Product: Hair Care Range

Trigger: Is the average daytime relative humidity going to be over 80% over the coming week?

Action: Display online video ads for frizz control hair products
Key Features
Complete 360° Coverage past, current, and forecast weather for all
global locations
Precision Targeting any weather element or combination of elements
can be set as a trigger
Platform & Channel Agnostic
Fast and Accurate
FREE to integrate and test out