Weather-Driven Demand
Weather is a fundamental driver of consumer spending habits. However, many of us don't realize just how pervasive weather's impact on the sales of goods and services really is. Forget about umbrellas and ice cream - the relationship between weather and product demand spans across nearly every industry including:
Food & Drinks

Clothing & Fashion

Travel

Hospitality

Leisure & Entertainment

Health & Beauty

Pharmaceuticals

Home & Garden

Automotive

Energy

Insurance

Electronics
The chart on the following page illustrates how a year-on-year rise or fall in temperature by just one degree Fahrenheit can have significant knock-on effects on the sales of a wide range of products in the USA - Triggering a 24% sales increase in air conditioners, 2% lift in soft drinks, and 4% rise in infant apparel purchases. A greater variation in temperature can produce even more pronounced effects.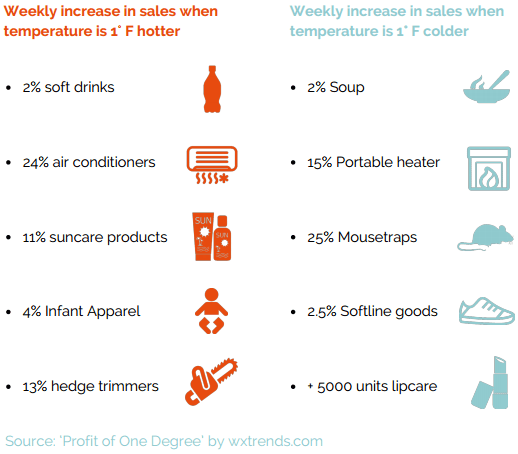 The demand for myriad products and services (even ostensibly weatherneutral ones) is largely shaped by weather conditions. However, these correlations vary according to locality, seasonality, and deviation from seasonal norms.
For example an 80° F day in Seattle might prompt people to shop for air conditioners, but 80° F in San Diego may cause locals to search for sweatshirts.
Likewise, a 60° F spell in winter will promote different consumption patterns to a 60° F spell occurring during the summer, in the same location.
When Sainsbury's examined the link between weather and sales for a selection of product categories in the UK, they found that just a few degrees rise in temperatures in early spring will produce a 200% lift in BBQ sales.
However, in Scotland, a temperature of 20° C or 68° F will prompt BBQ sales to triple, whilst in London, the temperature has to be exactly 24° C or 75° F to induce the same result.
The above example demonstrates the importance of performing an accurate analysis on weather-driven product trends. By examining POS data against normalized historical data, and factoring in location, seasonal averages, methods of purchase and other variables – accurate and nuanced correlations between weather and product sales can be established.